November 26, 2020
Demand for Second Homes Surges 100% Year Over Year In October
Despite the financial impact that the Coronavirus Pandemic had on millions of Americans, the sales of second homes is soaring. According to Redfin, a technology-powered residential real estate company, demand for second homes skyrocketed in October – up 100% from the same time in 2019. This outpaced the 50% increase seen in primary homes.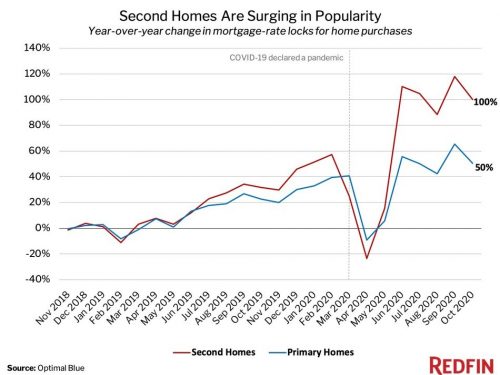 The increase in home sales can be attributed to record-low mortgage rates and a wave of relocations for jobs during the pandemic. However, the demand in second homes is most likely caused by different reasons. Many affluent Americans are continuing to work remotely, which gives them the freedom of not being tied to the location in which they are working. The widespread transition of students to online classes also means that parents no longer need to send their children to school. Another reason for this climb in second home sales is that affluent families still feel the need to travel, but would like to do it safely: what could be safer than traveling from the safety of your first home to the safety of your second home?
Data has also shown that some of the second homes purchased in 2020 will ultimately turn into primary homes. Especially now when Americans crave a feeling of safety and security, it's not uncommon for Buyers to close on their new home before putting their current home on the market.
Home values have also been climbing in seasonal towns across the U.S. According to Refin, the median sale price in seasonal towns grew 21% year over year in October to $420,000, outpacing the 14% growth in non-seasonal towns.
Redfin lead economist Taylor Marr says, "Even when offices reopen, folks will be able to spend more time than ever before in their second homes because many employers will continue to offer flexible remote-work policies. With workers still commuting in one or two days a week, resort towns that are near major cities will likely continue to heat up."
Source: https://www.redfin.com/news/second-home-purchases-soar-coronavirus-pandemic