May 22, 2020
Luxury Real Estate Market Update
According to an article published by the Minneapolis Area Realtors, both buyer and seller activity had gone down in the month of April 2020. However, one of the metrics that increased was the number of showings scheduled. In fact, it had reached a new high for the year!
"March started off strong and that strength returned later in April and into May; however, the latter half of March and the start of April saw set-backs due to COVID-19," said Patrick Ruble, President of the Saint Paul Area Association of REALTORS®. "REALTORS® are busy, and we've seen gains for both buyers and sellers in late-April and May."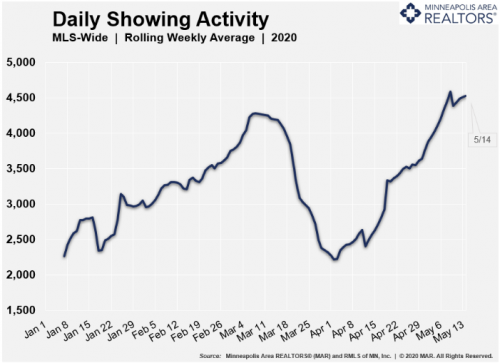 In addition to the number of House Showings seeing an increase last month, home prices and closed sales were also on the up and up in April 2020. This is credited to Purchase Agreements that had been signed in February and the first half of March. In addition to this, homes were seen to be selling much quicker this April than in the same month last year. This change can be contributed to the fact that motivated buyers who were not discouraged by the Pandemic staying have stayed dedicated to the task of moving into their dream home.
An increase in unemployed workers has impacted some Buyer segments more than others. For example, Buyers who work in industries such as hospitality, retail, and leisure are feeling the impact of the Pandemic much more than those in the Medical Field (or more specifically – those directly working with COVID patients). However, the Coronavirus has left no industry untouched. All segments of the Real Estate market have been impacted, whether it be from job loss or volatility in equity markets.
Slater Realty Group has seen an uptick in the luxury Market this month. Despite the increases in unemployed workers, the Upper Bracket market is continuing to ride a strong positive current. Due to the uncertainty of the stock market at the moment, upper bracket individuals are looking for more reliable means of investing. This will lead more Buyers to purchase second or third home as investment properties, assisting the luxury real estate market's growth.
Overall, while the month of April 2020 had its ups and downs, Real Estate experts are by no means shocked by the metrics for the month. In an environment of so much uncertainty, it is no surprise that Buyers are more tentative when it comes to making a commitment as large as purchasing a home! One thing remains clear: we are looking forward to better days ahead come Fall 2020!
Source: Minneapolis Area Association of Realtors
https://www.mplsrealtor.com/news/record-high-showings-the-bright-spot-in-april-housing-numbers/